We are the Seattle Chapter, winner of the 2015 Chapter Excellence Award!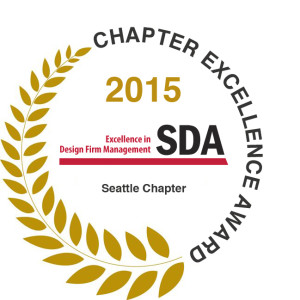 The Society for Design Administration (SDA) is an organization whose members work in the design industry for architectural, engineering, construction (A/E/C) and related industry firms.

Our Mission: SDA advances management and administrative professionals in the A/E/C industry through education, networking, and resources.
Members of SDA benefit locally and nationally.  Locally, you stay connected by attending our chapter's educational and social events, subscribing to our newsletter, and subscribing to our blog.  Nationally, you stay connected to other A/E/C administrators through on-line forums, the SDA Today news journal, and regional and national conferences.  Together, you have a strong network of supportive individuals who are considered subject matter experts in their field.
Check out the benefits that SDA members enjoy, then join the organization that is the only one dedicated to helping A/E/C members add value to their firms, and grow their careers professionally and personally.
"Their newsletter, Portico, is beyond miraculous." (Jury comment on our Chapter Excellence Award submittal)
Subscribe to our mailing list. You'll get copies of Portico, including announcements of our educational business practice events and our social events.
Be sure to check out our new Tips & Tricks page. We're giving away step-by-step instructions for creating macros, plus an accounting primer handout (and other stuff we'll periodically post).